since I was a teenager, I always liked Flat Track motorcycle racing, I was fortunate to live within a couple of hours of some small 1/2 mile and 1/3 mile tracks where I would spend most Saturday evenings watching the racers wiz by at some phenomenal speeds. Once a year, in September, we would drive the 5 hours it took to get to Syracuse, New York where there was a 1 mile track and all the big name racers would come in their quest for the AMA number 1 plate, guys like Jay Springsteen, Scott Parker, Chris Carr would run, inches apart going 120 miles an hour, It was great fun for us.
I always said I wanted an XR750, but one that was street legal, It had to have Lights, a horn and most importantly Brakes. In 1983 the Motor company introduced the XR1000, I just had to have one, My Brother and I, and a few friends loaded up my 1980 Dodge van, and we drove down to Florida to pick up my new Bike. Here it is the day I picked it up, don't forget...this was 33 years ago.!!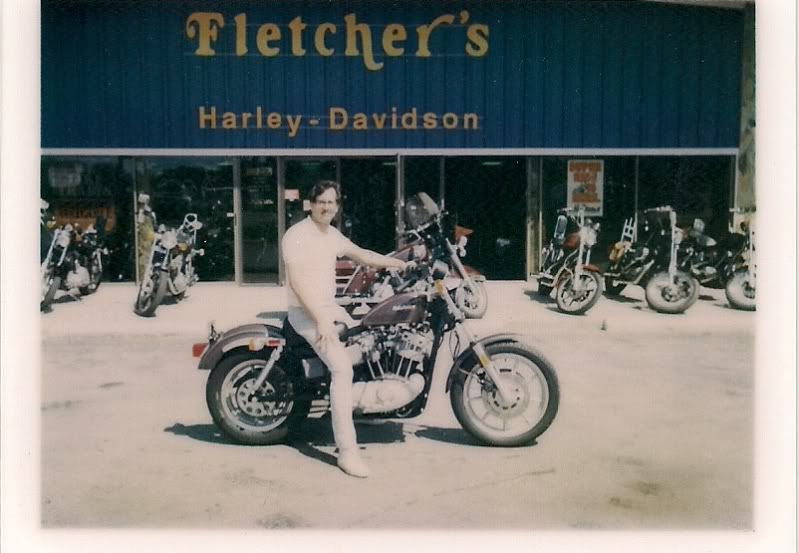 I've tried to keep it in good condition over the years, the only thing I've done to it, besides oil, batteries and tires, is a screaming eagle fork brace, a steering damper from Storz performance, and the Harley racing mufflers. It still runs good, had it out a few weeks ago, but it really is like driving an old tractor, it still brings a smile to my face when I get to ride it, Here is how it looked a couple of months ago
In 2008, I saw the XR1200 for the first time, but we couldn't get them here in the USA as they were for sale in Europe only for the first year, But in September of 2009 I finally was able to get one in, of coarse, in Fast Mirage orange Pearl. Here it is the day I picked it up.
After my first ride, I knew a few things had to be changed, I couldn't live with the stock seat, and I thought the stock 09 suspension was severely lacking. I started to modify a few things every year, First I installed the X suspension and noticed a big improvement, the later on went to the Ohlins rear 852's and had the Andreani piston kit and Ohlins springs and fluid done to the front BPF forks, now it works the way I want it to.
That about covers it folks, two more shots of Big Brother and Little Brother together, Thanks for looking!!